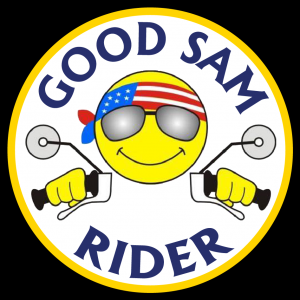 SAM SPECIFIC BIKE NIGHTS / CHARITABLE EVENTS and HONORARY MISSIONS
(Find us on Facebook to learn more about our Events and how you can participate)
2019 STATE / PUBLIC
SAMARITAN RIDERS OF WASHINGTON – GOOD SAM RIDER EVENTS… Friend us on Facebook to learn more: Samaritan Riders Okanogan; Samaritan Riders Spokane. This is our tentative schedule. Event specifics will be posted as these dates draw closer.
March 16 – Shits and Giggles – Not a formal event at all. Join some of our SAM Riders as they dress up in the Spirit of Saint Patrick's Day and support local parades in Chelan and Spokane.
May 11 – Terry Hill Memorial Ride (Omak). Our Honorary Associate; aka Judge was a 34 year Veteran of the US Army. Baby Boy Bear was our 4th Club Kid and he succumb to the complications of pneumonia. This is a free ride, for us to honor and remember them. It is open to the public to explore North Central Washington. Proceeds will be split between the Okanogan and Spokane Honorary Children.
July 13 –Apple Pie Jamboree (Pateros) –This is a public event to raise monies for the Okanogan Honorary Child. Kira is an 11 year old Pateros girl who is battling a rare brain tumor. #ICareforKira is registered with the Secretary of State Charities division.
August 10 – Chris Hammers Memorial Ride (Spokane) –This is a public event to raise monies for the Spokane Honorary Child. Kaya is a 5 year old Spokane girl who is battling blood cancer. #KayaCanBeatALL is registered with the Secretary of State Charities division.
November 11 – Veteran's Parades (Chelan, Tonasket and Spokane) – These are not SAM Specific/exclusive events. We invite ALL riders and spectators to show their support of our Veterans.
Our Collection boxes are sponsored by many Okanogan, Chelan and Spokane County Businesses who support our Mission and Vision to help our local kids.
Find us on Facebook for our SROWA Informational Session Schedules where you can learn more about who and what we are to decide if you want to help us do what we do for our local communities.
State of Washington Secretary of State Charities Program Disclaimer:
Each year, the SAMARITAN RIDERS of Washington (SROWA) selects socially disadvantaged and/or medically challenged children to represent in our passive collection jar campaign and annual Good SAM Ride to deliver those funds to their doorsteps the 2nd weekend after Labor Day in September.

These charities are registered with the Washington State Charities Program and can be found by typing keyword search "Samaritan Riders" at the

www.sos.wa.gov/charities

website or you can inquire about our good deeds by calling the SOS Charities Division at

1-800-332-4483.