The idea of a motorcycle based charity organization originated in 2008 when the organizations Founding Father "Cool Cat" and Founding Mother "QB" discovered that they have yet another thing in common besides marriage and motorcycles – They are committed to being good citizens and wished to serve the underprivileged within our community. They continue to hold the inherent belief that people want to help other people in their community to achieve the greater good in life.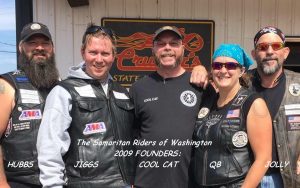 But they could not do it without their Co-Founders Justin 'Jiggs" Osborne, Roger "Jolly" Hammers and Justin "Hubbs" Hubbard.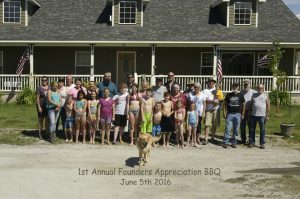 Choosing the right name that reflected our goals and principles as an organization was easy. We chose to identify ourselves as SAMARITAN  RIDERS.

Our primary SAMARITAN  RIDERS Associate body consists of local Fire, EMS, Law Enforcement, Primary Care and Nursing. This is not a prerequisite however, and we will look any applicant who has solid merit and good intentions.



Much like the wheeled evangelists, the SAMARITAN  RIDERS wish to be of service to the Motorcycle Community. Our long term measure of success will be to bridge the gap of club colors and territories when it comes to helping the children disadvantaged by life circumstances of loss, injury or illness. – Regardless of where they live. We have established a charitable network with a variety of like minded organizations throughout Washington State and have reached out to fellow Samaritan Organizations spanning the globe with similar visions of service for their communities.
OUR Disclaimers:
The SAMARITAN  RIDERS are non territorial. We are not a traditional Motorcycle Club (MC), Motorcycle Ministry (MM) or Christian Ministry (CM). SROWA subscribes to the "live and let ride" and "give Respect – earn Respect" principals. We provide each of our new general members with the history of the traditional back patch and an introduction to "MC" Riders Etiquette to preserve the foundations of Respect and friendly acceptance among the MC's, MM's, CM's and other motorcycle associations / social clubs in the State.
The SAMARITAN  RIDERS strive to work hard at establishing and maintaining networks among a variety of different organizations for the purpose and principles of helping the medically challenged and socially disadvantaged children in our local communities. We intend to grow in an effort to provide our service to those kids who need it.
Because the SAMARITAN  RIDERS provide a charitable fund raising service, we will retain 5% of all collections raised on behalf of the Honorary Child we sponsor. These funds will cover the administrative costs specific to that years charitable efforts.
The SAMARITAN  RIDERS will conduct satellite specific annual fund raising events to meet our organizational needs in representing these children. In addition to the 5% above, these events will finance our individual event promotions and operational overhead, to include, but not be limited to our website(s) maintenance, charitable applications, annual renewals, general membership recruitment meetings and SAMARITAN  RIDERS Trademarked Apparel.
State of Washington Secretary of State Charities Program Disclaimer:
Each year, the SAMARITAN RIDERS of Washington (SROWA) selects socially disadvantaged and/or medically challenged children to represent in our passive collection jar campaign and annual Good SAM Ride to deliver those funds to their doorsteps the 2nd weekend after Labor Day in September.

These charities are registered with the Washington State Charities Program and can be found by typing keyword search "Samaritan Riders" at the

www.sos.wa.gov/charities

website or you can inquire about our good deeds by calling the SOS Charities Division at

1-800-332-4483.